We went  to Fort Whoop-Up in Lethbridge.   We learned many things about the Native Americans and fur traders. The tour leaders name was David.   He explained many things to us.  They used to trad whiskey to the Blackfoot for pans, pots and other things.   This started to cause problems for the Native Americans.   The Native Americans that lived in the fort either worked or traded.  Over the winter to stay warm they used to wear long underwear and they would sew themselves into the long underwear.  They  didn't take a bath for six  months  and their hair grew through the long underwear.
 They didn't  have  cars or trucks.  They used  10-18 oxen to pull three wagons.   From Burdett to Lethbridge it is one hour on the bus.  With the wagon it would be five days  with 10-18 oxen.  The hospital was far away and many people didn't make it there.  The man didn't want to  hit the oxen with a whip if they didn't move fast because they would get angry so he yelled, " WHOOP- UP!!"    The  first door we went  into the Fort  was the RCMP room.  There were two people that lived in the room up in the loft to sleep. All of the other items used in the loft were  down below.  There was a table and their office below.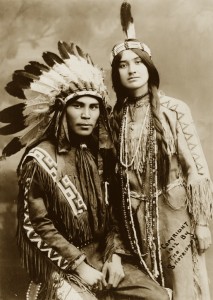 Beside the office was a jail with one bunk-bed.  Do you know why they slept up in the loft? The reason was it was warmer.  Do you know why they said good night.  Sleep tight.   Don't let the bed bugs bite?   The Native Americans used to have lot of bed bugs, so in the morning they had to spray their beds with bug spray. Sleep tight means they had to tighten their beds every time they went to sleep, otherwise they would fall down.  They didn't have bathrooms in their house, so they had a bed pan under their beds.  If they would fell out of bed, they would fall into the pan!  Yucky!   I really enjoyed the field trip!